The assigned desk. The five-day office week. The need for face-to-face meetings. Covid-19 is compelling us to re-examine long established work practices. Now more than ever, the modern workforce wants spaces conducive to flexibility and autonomy. Not an open- or private-office dichotomy, but a blended workspace. Where workers can choose or adapt their environment based on changing tasks, distancing protocols, hot desking and varied modes of work.
Choosing our design-led acoustic panels, hanging screens, artwork and room dividers will give your workforce that optimal balance: Zones for activity-based working that can be customised, installed and resized with ease; permeable privacy that doesn't create disconnect; and noise absorption that is a joy to the eye as well as the ear. And with our use of natural colours and sustainable materials, like 100% wool felt and FSC wood, FoW products deliver the proven wellness benefits of biophilic design – reconnecting workers to the natural world.
So why Friends of Wilson?
Since launch, our designs have transformed workspaces in the spheres of banking, government, finance, tech, education and retail – from globally recognised names to small creative startups.
Helping us serve our clients is a close-knit group of trusted experts. They include heritage felt manufacturers, advanced fibre technologists and acoustic testing specialists.
Our name reflects the open and collaborative way in which we work. It's a value woven into our design process and a strength we help clients foster through well-functioning workspaces.
We work closely with industry experts on the development of our acoustic products. And ongoing client dialogue informs future designs and ensures you get the most from your solution. It's open communication that stops us resting on our success and helps us boost yours.
About Lynne Wilson, Director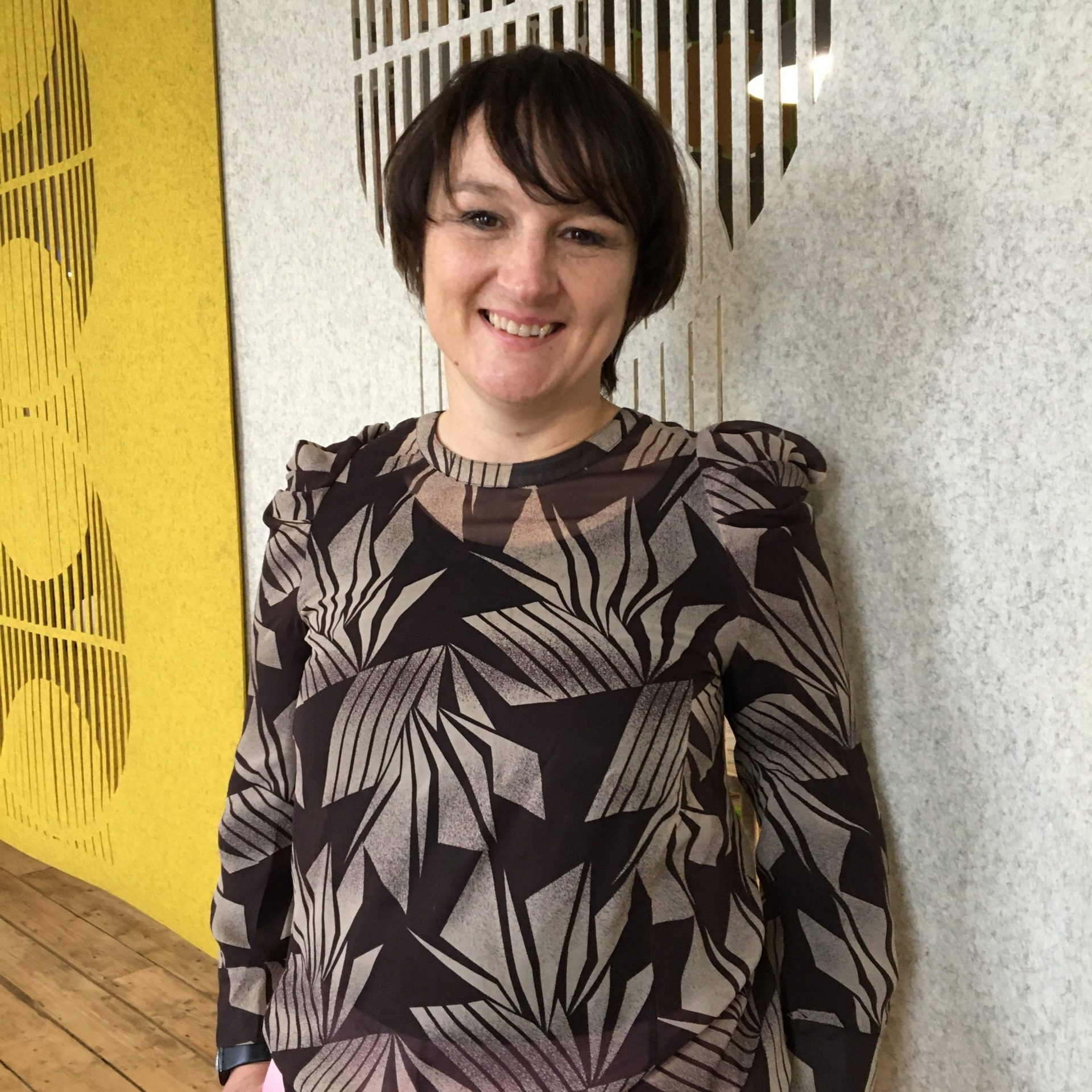 The journey to a creative career
I graduated as a mature student in the mid-'90s after studying furniture design at Edinburgh College of Art.
In the early noughties, as an early pioneer of the East End London design scene, I worked in a shared creative warehouse. Here, I designed and produced a range of furniture and interior accessories that went on to be sold by Harrods, The Design Museum, and the Conran Shop.
Over the next decade, my work expanded across a wide range of different disciplines, from high-volume furniture production and airport interiors to fashion retail and experiential design as I worked for global design agencies, inhouse brands and small design practices.
Between 2009 – 2012, I taught on the interior design courses at Southend and Edinburgh Napier Universities – and still deliver presentations about my creative process.
I believe in the power of good design to transform and enrich lives. And that the opportunity to not only access but to create that design should be accessible to all. Such inclusion, and that diversity, is for me the essence of creativity.
For me, design is about achieving the maximum effect from the minimum of means. I take my inspiration from across the creative arts theory and practice, looking to Bridget Riley, Jozef Albers, Philip Glass, OMA, and the brutalist architecture movement.
I want every design I create to make a difference. To do this, I develop conceptual ideas into visually-rich designs that are imbued with depth and meaning.
To this day, I am profoundly influenced by the things I noticed around me as I was growing up. Consett, an industrial steel town on the edge of the North Pennines, is a place of contrasts – a cradle of natural, industrial and political landscapes. And it's these influences that form the foundation of my creative approach – and my work.
Whatever the discipline, I work to design products that create an impact that's very much of their time – while holding a timeless appeal. Today, my focus is on sustainability and reducing the environmental impact of our products.
In collaboration with specialist manufacturers, I'm exploring my interest in the sensory environment. And, as a business, I'm committed to improving people's workplace experience by introducing acoustic products that transcend their practical function.
Featured project No.1 The Embankment
Find out how our screens gave real impact to this high profile office space.
Have questions about your project?
"The panels have effectively divided the space in which they have been installed, ensuring the desired degree of privacy whilst also being sympathetic to the design of the open plan interior. The product and it's positioning has added a unique element both visually and acoustically!"
Ewen Gaskell, Operations Manager, Bureau
"The visual impact of the screens compliment the space with the added functionality of zoning off areas and absorbing unwanted sound travel.
The service was outstanding, the team at FOW were incredibly helpful throughout the project from inception through to installation providing constructive solutions with the various challenges we faced during this project"
Ketia Fong Wah, Head of Interior Design, Harris Partnership. Project: The Embankment, Leeds
Get in touch to find out more about how our panels could benefit the look and feel of your home office.

Friends of Wilson
Studio 111
South Block
60-64 Osborne Street
Glasgow G1 5QH